Printing color is our business.
Laurel Valley Graphics offset printing is consistently delivered on time and within your budget, produced by a staff of experienced craftspeople. We feel strongly about the importance of the finishing touches on each project; the importance of attention to detail, shipping documentation, and the adherence to a set schedule gives our clients the confidence that their particular needs will be met.
Please contact us with your project needs, and we can send samples specific to that, such as pocket folders, soft-touch coating or uncoated work. When you're ready to start your project, just upload your print-ready files any time, from work or home!
Prepress
Our state of the art equipment gives our skilled operators the tools they need to transition client's files into print ready data.
Electronic Prepress Lab, accepting Mac and PC platforms
All up-to-date software
Fuji XMF workflow with various screening options
Epson SureColor P9000 Commercial Edition 44" printer with green, orange and violet inks, for color contract proofing
Screen 4300S completely automated thermal plate system
Offset Printing

LVG produces the highest quality sheetfed printing using only Heidelberg equipment. Our pressroom is the heart of our operation.
Heidelberg XL 75 5+LX, 5/color with aqueous coater, Sheet Sizes from 11 x 17 to 23.75 x 29.12
Heidelberg SM 52 4+LX, 4/color with aqueous coater, Sheet Sizes from 4.13 x 5.71 to 14 x 20
Heidelberg QM 46/2 Two-Color, Sheet Sizes from 5.5 x 3.5 to 18.125 x 13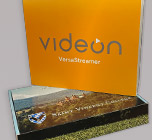 Specialty Packaging
Professional packaging allows your product to stand out from the competition.
Presentation is Everything.
Rest assured we will work through the details of your project so it stands out to the world.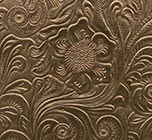 Coatings and Finishes
Add a special spark to your printed materials with foil, spots finishes and more!
Enhancements you can see and touch.
These finishing options offer a superior look and feel to your project.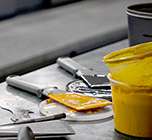 Custom Colors
Do you have a special color in mind? A special formulation may be the answer.
The right shade.
Sometimes a color cannot be achieved in CMYK and there is no matching Pantone ink. We can create a special ink formulation to match your color.